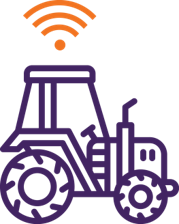 To Digitalize farmer's activity –  connecting, monitoring and executing their all agriculture processes.
Client: CTI Uganda
 Digitizing Farmers' activities — connecting, monitoring, and executing all agricultural processes of farmers.
This project was about understanding farmers' farming life and simplifying it with technology. The basic idea was to digitize the farmer's activities and connect, monitor, and carry out all relevant agricultural processes. The Ugandan government and the Ministry of Agriculture have decided to digitally connect and provide value-added services to change the lives of farmers. But there was no suitable technology. Nectar has done a great job of achieving this.
What we have worked on:
Single Push call
Soil test & Fertilizes Support
Digital wallet
Govt. policy integration